How give IT. get IT. helps veterans transition to civilian life and new careers
At give IT. get IT., we feel good about every computer we ship to our "get IT" clients, but we always get a little extra jolt of satisfaction when we help military veterans. From time away from family to the daily rigors of military life, every veteran made sacrifices so the rest of us can live freely and without fear. When we connect veterans with the computers they need to train for new jobs, we see it as an opportunity to thank them for their service.
That said, at give IT. get IT., we don't just give computers away. We require every client who receives a computer from us to have a clear education or training goal that they will use the computer to achieve. Since veterans embrace setting objectives and have the discipline to execute plans, they are strong candidates for our digital inclusion services. And because veterans were trained to be respectful, they're also some of the most enjoyable people we have the pleasure of serving.
Helping veterans here in Maine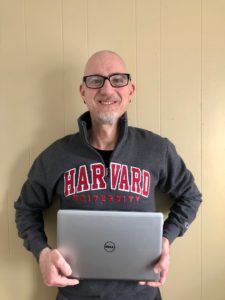 Back in the spring, we shared the story of how we helped disabled veteran Dee Francis complete an Alternative Investments Certification Course at Harvard University. "It was difficult, but worth it," Dee said when we followed up at the conclusion of his 5-week course. "I just want to thank you again as this never would have happened without give IT. get IT." Dee is still working closely with Veterans, Inc. to manage his PTSD so he can eventually pursue a career in finance. We keep in touch with him regularly and look forward to providing more updates in the future.
Organizations like Veterans, Inc. work with veterans every day, understand what they need, and are dedicated to helping them build productive lives so they are excellent partners for give IT. get IT. Thanks to a recent introduction from our friends at the Maine Connectivity Authority, we just connected with the Maine Bureau of Veterans Services, and we're excited to work with them to help even more veterans here in Maine.
Helping veterans all over the country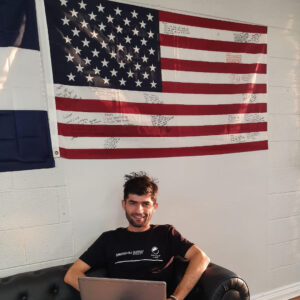 While Maine and New Hampshire are our primary focus areas, we are regularly moved to act when we learn about people in other parts of the country (and world) who need our help. That's exactly what happened when Lyla Kohistany, the CEO of Honor the Promise, reached out to us in July. Since then, we've shipped 97 computers (and counting) to Afghan Special Operations veterans living all over the country. These men and women served alongside our troops in Afghanistan for years and need computers to complete their asylum applications and learn English so they can start new lives here in the United States.
We're profoundly grateful to the Military Times and Maine Biz for writing about this project and NEWS CENTER MAINE for visiting our facility and sharing the video below on their broadcast.
Partnering with like-minded organizations to acquire more tech for veterans and students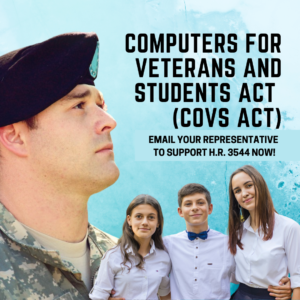 In addition to shipping computers to veterans' doors, we at give IT. get IT. support our friends at Tech For Troops in their fight to get the COVS Act (Computers for Veterans and Students) passed. When this bill passes, it will allow organizations like ours to access some of the 300-500,000 computers the federal government removes from service each year. These are top-quality, highly reusable machines. If the COVS Act passes, every computer we receive from it means another veteran or student served, so we are in regular touch with our state representatives to see this critical legislation passed.
Would you like to help us help more men and women who served in the military? If so, your tax-deductible contribution to our scholarship fund will go directly toward a veteran's participation fee if you include a note.
Thanks for taking the time to learn why we're so proud to support veterans who deserve our compassion and respect. We look forward to sharing more success stories with you in the future. In the meantime, if you know any businesses with technology to recyle, please send them our way!