More than great computers at low or no cost | the true value of give IT. get IT.
Delivering maximum value to every client who needs a computer to turn their life around is not just our mission
At give IT. get IT., a quality computer at a great price is just the beginning of the value we provide our clients because computers are just tools. Like any tool, a computer is only effective when you have the right one for the job and have the knowledge and ability to use it.
In this blog post, we've summarized the entire get IT. client experience to illustrate the complete value of our service. Value that we, as a non-profit organization, measure in the testimonials and thank you notes we receive from people who've turned their lives around, not in dollars and cents.
COUNSELING | Understanding goals, assessing needs = digital navigation AKA connecting our clients with the right tools for their goals
Once a client completes an application or their caseworker does it for them, we call them directly to discuss why they need a computer and what they're looking to do with it.
Are you taking online classes to get your GED?
Are you going back to college to finish the associate's degree you had to bail on after your son was born?
Do you need a computer for a second job doing customer service work from home because the company won't provide one to part-time employees?
Do you need special software for the accounting certification you're trying to earn?
These are just a few of the questions we ask our clients to ensure we have all the information we need to build the best computer for them.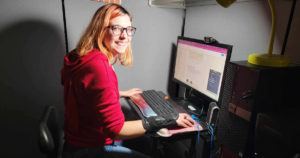 Once we have all the information, our clients rest easy knowing that we aren't trying to sell them anything. Their participation in our program has nothing to do with driving revenue for our organization. In fact, the participation fee we charge each client (and waive in circumstances where a client has no money to pay it) is simply our attempt to recuperate some of the hard costs associated with building each client's computer and shipping it to their home.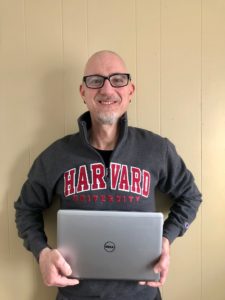 In addition to the computer itself, we include the best operating system for their needs and any peripherals they require for the best possible user experience including:
Mouse and keyboard
Webcams
Oversized monitors
User-specific software
Laptop docking stations
Laptop carry bags
TRAINING | Positioning our clients for success
The value we provide each client doesn't end when their computer leaves our facility. Our relationship with them has just begun. give IT. get IT. clients have access to all kinds of free resources to help them put their new computers to effective use. From our getting started video tutorial and helpful hints on our blog to in-depth instruction on a wide range of topics from our friends at National Digital Equity Center and a phone call to our support line, help is always available.
SUPPORT | Taking care of the computer… and the user
In a nutshell, the only computer problems we don't fix for free (for our get IT. clients) are the ones caused by humans. For example, if a client spills coffee on their laptop or their dog chews apart the cord from their CPU to their monitor, they're on your own. Besides those situations, we help our clients navigate every other technical issue, software question, or computing challenge that's stopping them from achieving their goals and fulfilling their dreams.
HOW DO WE DO ALL THIS?
As a non-profit organization, we don't have to maximize profits to make our board of directors happy. We measure our success by the number of people we help each year. It's all part of our mission to advance digital inclusion to help people achieve digital equity. We dream of a world where every home in America has at least one computer that everyone in the household knows how to use, complete with a high-speed internet connection to access the resources and job opportunities they need to succeed.
THAT'S the true value of give IT. get IT. We invite you to be a part of our story by hiring us to recycle your company's surplus technology or support our cause with a financial donation.
If your business has surplus technology in need of recycling or you know a company that does, please connect with Allen Cornwall, our Technology Reuse and Recycling Advocate at acornwall@itec3.org or 207-749-3431.
If you'd like to help us help people in need by contributing to our get IT. sponsorship fund, please CLICK HERE to make a tax-deductible donation.