Give IT | Tech Reuse Credits Save RSU34 Nearly $2,000 in Recycling Fees
We introduced TECH REUSE CREDITS at the end of last year as a way to incentivize businesses throughout New England to help us convert retired corporate tech into tools and opportunities for people.
The concept is simple:
Businesses receive Tech Reuse Credits for every reusable desktop or laptop computer they include in each recycling pickup
Depending on the condition of the computer, this credit ranges from $5-20 per machine.
We apply Tech Reuse Credits to the costs of sustainably recycling all other unusable tech that is not safe for landfills, such as copiers, printers, televisions, and monitors
Thanks to Jef HamLin, the IT Director at RSU34 in Old Town, we're excited to share a case study that illustrates how Tech Reuse Credits can help YOUR organization save money while supporting our digital inclusion mission.
RSU34 includes Old Town High School, J.A . Leonard Middle School, Alton Elementary School, Old Town Elementary School, Viola Rand Elementary. Like any business, these schools periodically have technology nearing the end of its useful life that they need to upgrade. Such was the case last month when Jef found himself with a massive pile of outdated tech he had to get rid of as quickly, responsibly, and cost-effectively as possible.
Jeff's tech collection included 31 Flat panel monitors and old televisions, 8 printers, and 7 networking appliances ranging from twelve to fifteen pounds, plus an assortment of other electronic odds and ends like batteries and storage devices with little to no scrap value. It was your classic pile of junk that gives busy IT Directors fits.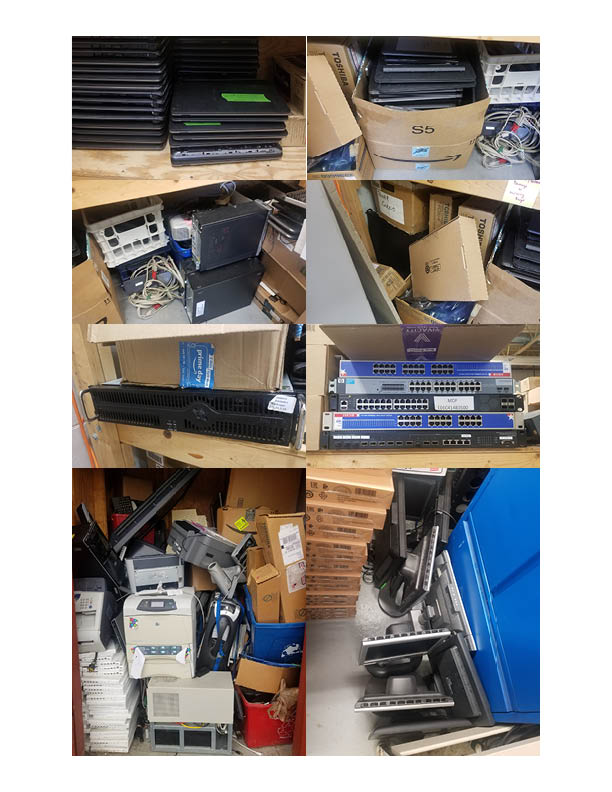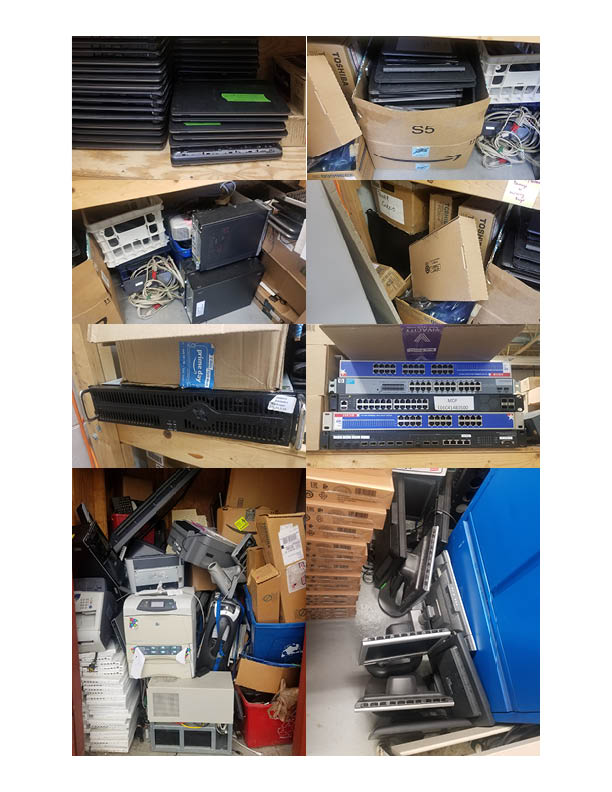 The two truckloads of waste we picked up from RSU34 totaled over 4,300 pounds of retired tech. Fortunately for RSU34 and give IT. get IT., these two pickups also included 350 desktop and laptop computers. In the past, we would not have charged RSU34 for picking up these devices. We would have processed them for free and reused as many as possible in our digital inclusion program.
Thanks to Tech Reuse Credits, each of these devices reduced the cost of picking up and recycling the rest of RSU32's retired tech and the savings was impressive.
Without Tech Reuse Credits, RSU32's invoice would have exceeded $2,000. After applying Tech  Reuse Credits from the 350 computers included in the pickup, RSU32 paid just $6 to have all their outdated servers, printers, and other electronic devices picked up and recycled.
"Tech Reuse Credits are our way of rewarding our recycling clients for being "all in" with give IT. get IT.," Operations Director Chris Martin explains. "As a non-profit organization, we're not recycling e-waste to make our investors happy. We do it to fund our operation and obtain the computers we need to fulfill our digital inclusion mission.  Last year, we faced such a dramatic shortage of recyclable computers, we had to take money out of our operating budget to purchase computers to keep pace with increased demand from people in need due to COVID-19. Offering Tech Reuse Credits that provide businesses with incentives to include computers in their recycling pickups is a better value for them, more efficient and cost-effective for us, and better for our the people we serve."
Jef HamLin agrees: "give IT.  get IT. came to RSU34 and took 5 pallets of e-waste.  They were efficient, thorough, and fast.  As they went about their business, they advised on how to store devices for removal, what to do in order to save on costs, and how to partner with other schools and businesses for efficient pickups.  This is a well-run and highly effective outfit!"
How much money can our Tech Reuse Credits save your business on its next tech recycling project? For a free estimate, please call Chris Martin at 207-322-6257 or email him at cmartin@itec3.org.