Meet Steve Ropiak, our new Customer Support Specialist
Our new Customer Service Specialist has a long history with give IT. get IT. In 2009, Steve Ropiak answered a classified ad posted by PC Medix in Belfast. PC Medix was our version of the Apple Genius Bar. Instead of ultra-expensive iPhones and Mac Books, we sold refurbished computers and offered on-site tech support and computer repair services. For two years, Steve was one of our most versatile employees. He welcomed customers into the shop and helped them find the right computer for their needs. Steve also took phone calls from computer owners who needed help with everything from troubleshooting problems to using software effectively. Steve also trained new customers to use their machines.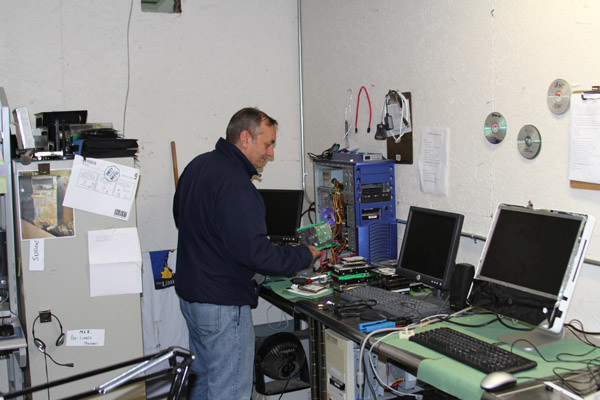 In 2011, Steve received a job offer from Eastern Maine Community College. As much as he loved working for us, our small non-profit organization couldn't match the salary and benefits package, so Steve made the difficult decision to move on. He left on good terms and even continued to serve some of his former accounts on a contract basis. Our relationship with Steve was so strong, that we invited him to join our Board of Directors in 2016. While serving as our Board President from 2018-2020, Steve was a huge help when we purchased our current location at 60 Industrial Street in Waterville, providing strategic guidance and hands-on support.
When Steve took a job at Dennis Food Service, he made sure their IT department recycled their unwanted technology with give IT. get IT. In 2019, Steve's dedication to his job at Dennis earned him their coveted Dennis Difference Award.
After a few months of retirement, Steve reached out to Jodi to see if she needed any help, and his timing couldn't have been better. Between the pandemic and the closing of Computer Technology Assistance Corps in New Hampshire, demand for our services is at an all-time high. With Steve on board as a part-time Customer Service Specialist, Jodi is free to establish relationships with new partners in New Hampshire, such as The Office of Workforce Opportunity.
As our Customer Service Specialist, Steve is responsible for guiding our "get IT" clients through every step of acquiring one of our refurbished computers. First, Steve answers any questions about our application, listens to each client's goals, and helps them figure out what software they need and whether a laptop or desktop is the right fit. Once Steve has all the information to create a computer package, he works with the client to determine how they can afford to pay.
In the 20 years we've been in the digital inclusion business, we at give IT. get IT. have learned that clients are far more likely to reach their goals when they have "skin in the game." To create a true sense of ownership, we charge a participation fee ranging from $50-$280, depending on a client's financial situation. In return, they get not only a high-quality computer but also free training and a year of technical support.
With Steve on our team, we can get computers into people's hands faster than ever which is a win for everyone, including Steve. "I love making a difference in people's lives," Steve says. Having access to the technology we provide opens up a whole new world for people: education, jobs, and information only available online.  Just being a part of that is a great feeling." The only thing Steve enjoys more than helping people acquire computers is hearing from the Case Managers and Career Counselors assigned to help them. "We make their jobs easier by providing their clients the resources they need to improve their lives," Steve explains.
When Steve's not connecting our "get IT" clients with computers, he's either relaxing at his home in Brewer, riding his bike, or volunteering at the Autism Society of Maine and the Bicycle Coalition of Maine.
If you're in a tough spot financially and need help acquiring an affordable computer, CLICK HERE to complete an application, and you may be the next person Steve helps to fulfill their dreams.  "Please don't think of a free or low-cost computer as a hand-out," Steve says. "It's an opportunity for you to help yourself.  We provide access to a tool, and we show you how to use that tool to build a better future. How far you go with it is entirely up to you."