give IT. get IT. achieves TOP-RATED status from Great Nonprofits
Since we first opened for business at PC's for Maine in 2002, we have always strived to be a great nonprofit organization. For us, being great has never been about awards or recognition. We simply want to be a great nonprofit organization to the clients who depend on us for the top-quality refurbished computers they would not be able to afford without us.
A few years ago, one of our board members learned about Great Nonprofits. Endorsed by IT legend and philanthropist Bill Gates, Great Nonprofits is an online community where people from all over the world can learn about nonprofit organizations that match their values. It's like a dating app for people looking for worthy causes to support financially. In order to stand out from the hundreds of worthy organizations in the community, Great Nonprofits recommends every member strive for TOP-RATED status. We needed ten 4-Star or above reviews on our Great Nonprofits profile page before their October 31 deadline to achieve this status.
To get these reviews as quickly as possible, we sent an email to 200 clients who recently received a computer from us. Within a matter of days, we had the ten reviews we needed to earn TOP-RATED status, plus ten MORE reviews that truly warmed our hearts. We're delighted to share just a few of them here in this post and we invite you to CLICK HERE to view the rest of them.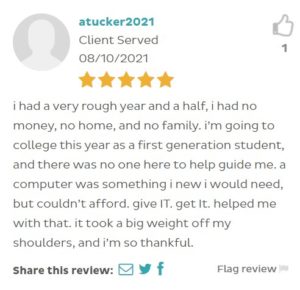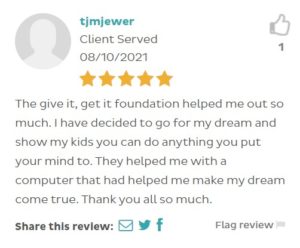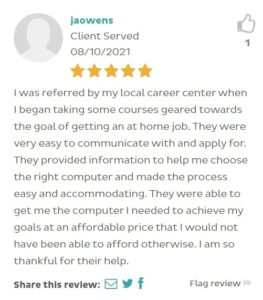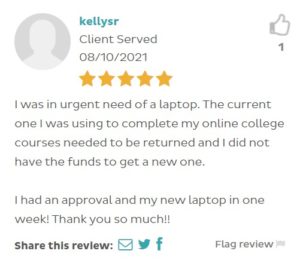 Of the thousands of organizations listed on GreatNonprofits, only 679 have earned TOP-RATED status. Of those 679 TOP-RATED nonprofit organizations, only three of them are here in Maine and we are delighted to be one of them.



Why is this important for give IT. get IT.?
As Great Nonprofits states on their website: "We are the #1 place for people to share great stories of the amazing work done by nonprofits. We started the GreatNonprofits Top-Rated Awards program in 2010 and it is now widely known as the most influential "people's choice" awards for outstanding nonprofits, large and small."
As a small nonprofit organization, we don't have the resources to maintain aggressive fundraising campaigns like direct mail or print advertising to solicity donations but we always appreciate them. When an individual or business chooses to sponsor one of our clients or make a general donation, their money goes directly toward the cost of refurbishing a client's computer.
Being listed as a TOP-RATED organization on Great Nonprofits makes it infinitely easier for compassionate individuals around the world to learn about our mission, see the important work we're doing and read the reviews from our clients. There's no guarantee that Bill Gates or some other philanthropist with a passion for technology will see our story and write us a big check but the odds of that happening are a lot better with TOP-RATED status.
If nothing else, our hearts are even fuller than usual from hearing the kind words from the clients we've helped. That's why we do this work — to help people in tough spots who to  acquire new skills, land better-paying jobs and take charge of their lives.
Would you like to sponsor one of the dozens of people on our waiting list who need help covering the cost of their computer?
CLICK HERE to make a secure online donation that will go directly to the cost of one of our refurbished machines
Would you like to learn more about our R2 certified recycling services for your business?
Please email Chris Martin at cmartin@itec3.org or call him at 207-322-6257.