Fighting depression by helping others overcome addiction
Stephanie Freeman is no stranger to the frustration, anxiety and depression that put some people on the path to addiction. Throughout her forty-five years, she's seen several friends and family members become dependent on drugs because they couldn't cope with their emotion; a situation Stephanie understands all too well.
I used to work in the caregiving field," she explains. "I provided homecare for the elderly and I also worked with children and adults with developmental disabilities." As much as she loved helping people, Stephanie was unable to distance herself from the bad parts of her job. Every time a patient became violent or passed away, Stephanie began to feel less confident and experience more depression. Not being able to fit in with her co-workers made her feel anxious and inadequate which made her depression even worse. No matter what Stephanie did, she felt like she was constantly letting someone down. Eventually, Stephanie's depression reached the point where she couldn't get out of bed and she became 100% disabled.
"As a person who was always able to take care of myself and take care of others, becoming disabled was just horrible. I felt so ashamed and hopeless. I hadn't been in an accident, I hadn't been physically injured but that's what it felt like. It was only when I started looking around at what some other people were dealing with that I figured out what was causing my depression and how I could do something about it."
When Stephanie realized how much her job had been damaging her state of mind, she immediately started feeling better. "I realized that not being able to deal with death didn't make me a bad person or a failure," she says. "It just meant I needed to find something else to do."
Still wanting to help people, Stephanie started volunteering for AmeriCorps as a Maine Recovery Coach to individuals struggling with drugs and alcohol addiction.  She found the work so rewarding, she decided to go back to school through a special program that will help her become a CDAC – Certified Drug and Alcohol Counselor. "Once I have my CDAC Certification, I will be able to continue on with that training and school and get my Associate's degree in Human Services," Stephanie says.
In order to fulfill her goals, Stephanie needed a computer. Given her fixed income, she was unable to afford a brand new computer so she decided to try renting a laptop from a local rental company. After two months of spending $100 per month for a very basic machine, Stephanie realized she was in a bad situation. "Instead of giving in further to depression, I called Jodi at give IT. get IT. after a friend told me how they'd helped her," Stephanie explains. "At first, I was nervous about buying a used computer but Jodi told me she could get me a better computer that I could pay off in less than three months of renting."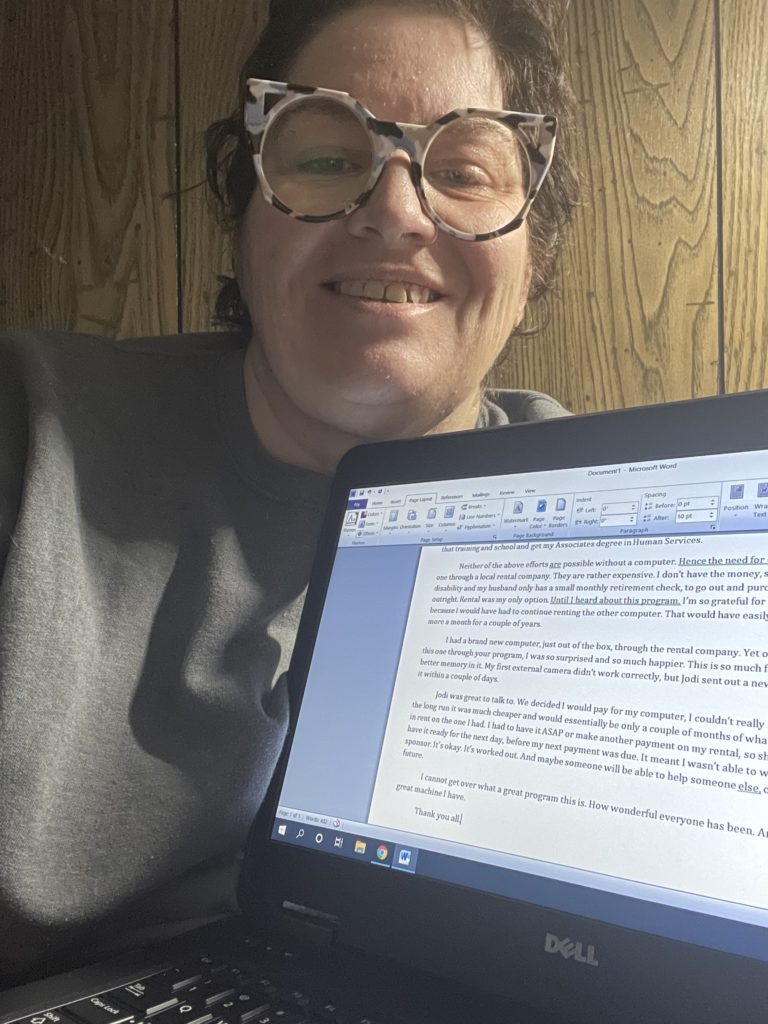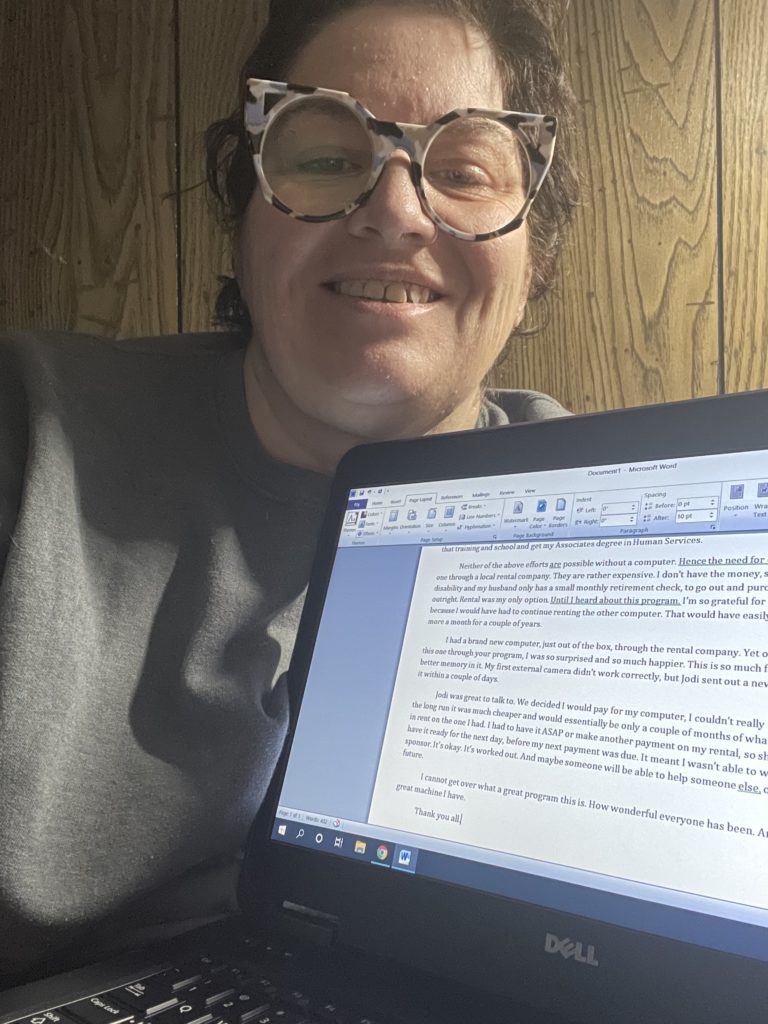 To avoid making another $100 rent payment, Stephanie went ahead and wrote a check to pay for an upgraded Dell laptop with 256GB of SSD storage and 8GB of RAM. "I was so surprised and so much happier," Stephanie says. "My give IT. get IT. computer is so much faster and has way better memory in it. My first external camera didn't work correctly, but Jodi sent out a new one and I had it within a couple of days."
Because she wanted to get her computer quickly, Stephanie was unable to wait for a sponsor to cover the cost of her computer. "It's okay. It's worked out," she says. "I just hope me sharing my story inspires someone to help someone else, or possibly even me in the future. I cannot get over what a great program this is. How wonderful everyone has been. And what a great machine I have. Thank you all!"
Helping people who have struggled with depression, physical challenges or money problems and don't need the additional burden of buying an expensive computer to improve their situation is what give IT. get IT. is all about. Everyone needs a hand up every now and then. We truly believe that a computer is one of the most powerful tools a person can use to build a new life for themselves. We're honored to help hundreds of people like Stephanie every year and we can't wait to see where she goes from here.
If you'd like to help more people like Stephanie receive the computers they need to succeed at low or no cost, please consider making a donation to our program in the form of a sponsorship.
If your company has retired tech that we can upgrade to help people in need, please call Chris Martin at 207-322-6257 or email him at cmartin@itec3.org.