Drop Off  Electronics Recycling at the give IT. get IT. facility at 60 Industrial Street in Waterville:
Updated by Chris Martin, February 14, 2022
All Maine households are welcome to use this service. give IT. get IT. reuses computer equipment to help disadvantaged people all over New England – and can properly recycle other electronics too.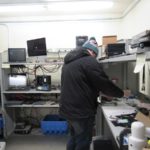 Self-serve drop off electronics recycling is available 7 days a week during daylight hours at our Waterville facility.  Acceptable materials are televisions, monitors, printers, and set top boxes such as VCRs, DVD players, game consoles, cable and satellite boxes, network gear and computers. There are containers marked for these materials in the shed in the front parking lot. These items are accepted and processed for free.
If you have other electronics that do not fit one of these categories such as radios, projectors, batteries – just call us at (207) 872-2615 to see if we can accept what you have.  Fees for these miscellaneous items might apply and can only be brought to the facility with prior approval on weekdays betweeen 7 am and 2:30 pm.  We are closed most federal holidays
We strongly recommend that visitors with computers come during operating hours and call the phone number above – our staff will bring these items inside the facility to prevent theft or pilferage of these potentially sensitive devices (your data) when left outside.
We do not accept other electronics for drop off at this time – such as things with refrigerants (dehumidifiers, air conditioners), light bulbs, vacuum cleaners, leaking batteries or items containing mercury.
We are pleased to continue providing this valuable community/environmental service and ask that all visitors respect the property, avoid breakage and follow these guidelines.
Be aware that the entire property is under surveillance and removal of any material from the property is theft and leaving any other devices or materials not mentioned here is illegal dumping and will be prosecuted.
If you have any questions, please call (207) 872-2615.
Thank You