An Open Letter to the Maine Connectivity Authority Board
In the 20 years that our non-profit organization has been pursuing its mission of advancing digital inclusion, we have never been more optimistic about the future of Maine than right now.
We have read with great interest about the $250 million the federal government is sending to Maine for the express purpose of increasing the availability of broadband internet access throughout our state. As members of the newly formed Maine Connectivity Authority Board, you have the remarkable opportunity to significantly impact Maine's economy by determining how to spend these federal funds.
Statewide access to broadband internet is essential, but it is vital to remember that a reliable connection alone does not solve Maine's digital equity problem.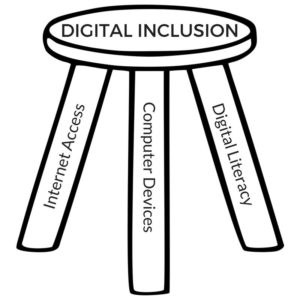 At give IT. get IT., we believe broadband internet access is one part of a three-legged stool. The other two legs of this stool are dependable computers with the power to run training and education programs and the technical skills and knowledge to use these programs.
$250 million is a breathtaking sum of money. As exciting as it is to see such a significant commitment to addressing broadband internet access, we urge the Maine Connectivity Authority Board to remember the other two legs of the digital inclusion stool — devices and digital literacy.
As you picture a future for Maine where every household can afford reliable broadband internet access, please ask yourselves these questions:
How will the internet help Mainers acquire the skills they need to qualify for better-paying jobs?
What type of device is best suited for taking online courses? A cell phone, a tablet or a computer?
If you believe a computer is the best tool, how will Mainers in need afford them?
Formerly PC's for Maine, give IT. get IT. is non-profit organization that converts retired corporate technology into tools and opportunities for people. We collect outdated laptops and PC's from companies all over New England, refurbish and upgrade them into powerful, dependable machines and ship them to Mainers in need at low or no cost.
As you determine how to distribute these federal funds, please keep our partners at the National Digital Equity Center and us in mind. We share your vision for a more connected, more competitive Maine, and we stand ready to help you deliver the full potential of this $250 million opportunity. Please let us help you ensure that the thousands of Mainers who will have broadband internet for the first time will also have the tools and skills to make the most of it and improve their lives in meaningful ways.
Our Operations Director Chris Martin looks forward to speaking with you. Please reach out to him anytime at 207-322-6257 or email him at cmartin@itec3.org.