Got IT | An aspiring business owner asks for help
Asking for help is hard. Just ask any toddler determined to "do it all by myself" no matter how difficult the task may be.
At give IT. get IT., most of the clients who come to us for computers, training, and tech support are already receiving help from organizations like Eastern Maine Development Corporation, Fed Cap, and HOPE so we rarely encounter people like Jesse Reese of Frenchville, ME.
Even after being stabbed in 2012, enduring a COVID-19-induced mental health crisis, and being diagnosed with PTSD, Jesse was still reluctant to seek help starting a business. "I've always been the type of person to do things myself," Jesse explains. "On top of that, society teaches you that anyone getting help is lazy or there's something wrong with you if you even ask for help. Even when I was at the lowest point in my life, I couldn't grasp the idea that there were people out there who could help me. I felt lost, I felt like a failure – those are hard things to overcome on your own."
A married father of three, Jesse was a successful Production Planner at Twin River Paper Company. Working his way up from the production floor one 12-hour shift at a time, Jesse was so respected by his co-workers that he was named Union President. "Because everyone else was working as hard as I was, I didn't realize how much stress I'd taken on," Jesse says. "When COVID happened, it really affected me in ways I wasn't expecting. Everyone was coming to me for answers while I was just trying to keep my own family safe. On top of the work stress, my stepfather and my best friend Travis passed away and my father was having health problems. I ended up having a mental health crisis, losing my job, and eventually hitting the lowest point in my life."
Fortunately, with the support of his family, friends and co-workers, Jesse discovered Life By Design, a mental health counseling organization that provides an array of outpatient services, including community integration services. Working closely with Sarah Hemphill, Jesse is finding the direction and resources to start his own firewood delivery business.
One of those resources is New Ventures Maine, a non-profit organization that helps Maine people achieve their career goals through free classes and one-on-one coaching. In addition to assisting Jesse with his business plan, Karleen Andrews at New Ventures Maine is helping Jesse understand the demands of running his own business. "Both Karleen and Sarah have been so helpful. I'm taking an Introduction to Self Employment class plus a Tax Preparation class that will teach me how to make sure I set aside enough money for state, federal, and self-employment tax."
Jesse doesn't own a computer, and since all of the courses he's taking are remote, he's been attending them on his cell phone. "I've been taking notes with a pen and paper, which is fine, but it would be really helpful to save them to a Word doc and follow along with my instructors using an actual Excel spreadsheet," Jesse says. "Sometimes I write notes on my phone but it's hard to do with a small screen and keyboard. Not having a computer also makes staying organized extra challenging."
After seeing Jesse struggle to handwrite his business plan Sarah at Life By Design reached out to Karleen at New Ventures Maine. "She asked if New Ventures Maine provided funding for laptops, or if I knew of other resources," Karleen explained. "I suggested Sarah contact give IT. get IT. to see if they could help Jesse obtain a laptop. A few days later, I was excited to hear that Jesse will receive a free laptop from give IT. get IT.'s scholarship fund. Start-up costs can be very challenging for aspiring entrepreneurs and new business owners. Having access to technology is critical for the success of small business owners in Maine, especially for those located in rural communities."
At give IT. get IT., we don't provide low-cost computers training and support to just anybody. In order to qualify for our program, we require our "get IT" clients to have an attainable career, education, or personal wellness goal. Jesse had the career goal, plus a lot of drive and determination. What he didn't have was the $391 participation fee we typically pass on to each "get IT" client to cover a portion of our costs to ship a high-performance refurbished laptop to their homes and provide free tech support and a full warranty.
When the agency supporting folks like Jesse do not have funding to pay the participation fee on their clients' behalf, and the client themselves can't afford it, we tap our scholarship fund.  Our scholarships are funded in two ways:
1) give IT get IT tech sales fundraising by resale of reusable tech that isn't useful in our digital inclusion program (ex: commercial network, phone or printing gear etc)
2) Generous grants and financial gifts from individuals and community-minded businesses.
As fate would have it, the week before Sarah from Life By Design reached out to us to get a computer for Jesse, long-time tech reuse partner Machias Savings Bank gifted us a $5,000 check for our scholarship fund. This was not the first generous donation we've received from Melissa Denbow VP, Community Experience, and her team. In the summer of 2021, we received matching $5,000 donations from Machias Savings Bank and First National Bank which we used to provide free laptop computers to 25 Worthington Scholarship winners.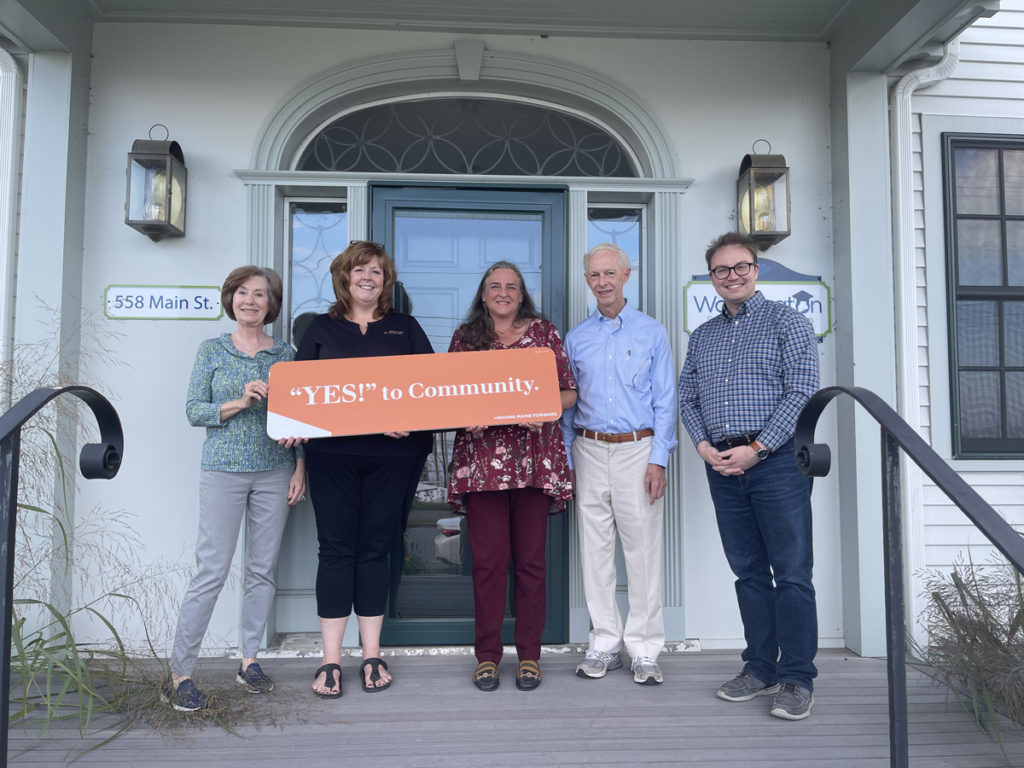 "In a world where digital accessibility affects education, medical care, and small business success, access to a device is critical for every household," Melissa Denbow explained. "We are proud to provide funding to an organization that is supporting small business startups.  Together our partnership is helping to create thriving communities."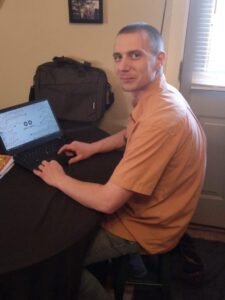 Jesse received his computer on Saturday, January 14th and is using it to transcribe his hand-written notes into Word documents and Excel spreadsheets for easy reference. "I appreciate it so much, it is a very thoughtful donation of you all," Jesse says. "This gift makes so many things possible for me going forward. It's going to be such a useful tool tobuild this business."
As a testament to the adversity he's overcome in his life, Jesse is thinking about naming his firewood delivery business "Hard Knots." "Step one is getting the money I need to acquire uncut logs," Jesse explains. "From there, I'm going to be putting in a lot of hands-on work myself while getting help from friends, my father and my oldest son. The computer will help me create a website for the business and promote it on Google and social media. Emailing potential customers will also be a lot easier."
It's important to note that Jesse is researching, planning, and starting his business during nights and weekends. To keep the money coming until the company is up and running, Jesse works with his dad at Pro Flooring in Frenchville. "I learn from everyone around me while doing word-of-mouth promotion for the business. Giving back makes me happy, so once I get started and understand my finances, I'm hoping to set myself apart by offering either some type of discount or free stacking service for veterans and seniors," Jesse says.
When we asked him where he sees himself in five years, Jesse flashed the smile of someone who's been doing a lot of thinking about his future. "I want to buy a wood pellet machine as soon as I can to make sure I don't waste an ounce of wood," he says. From there, I'd like to open a second location in Michigan where two of my three sisters lives. I'd also love to help my 21 year-old brother after he gets out of the Army in a couple of years. From there, I'd eventually like to offer complete woodworking services like custom cabinets and doors."
Despite what you see on social media sites like Facebook and LinkedIn, no one's life is perfect. We all need a kind word or a push in the right direction from time to time. "This is my comeback story," Jesse says with obvious pride. "I'm happy to let other struggling people know how much help I'm getting and I have to take a moment to thank my family, friends Michelle, Matt, and Dave, and the incredible union support I received from locals 232, 365, 1247, and local 6. Local 6 out of Massachusetts spent funds, time and resources they didn't have to on me just to help. Everyone in this article is helping me set a good foundation to succeed. I can't thank them enough, and I can't wait to pay it forward by hiring people who were struggling like I was and helping them turn their lives around."
If you're feeling dissatisfied, lost, or depressed, we hope Jesse's story inspires you to seek out help from a trusted friend, a mentor, or a local resource like Life By Design or New Ventures Maine. No matter where you live, help is always available if you're willing to ask for it.
If you can help us help deserving people like Jesse who are working hard to turn their lives around, we'd be profoundly grateful for your tax-deductible donation to our scholarship fund. Whenever possible, we prefer our "get IT" clients to have some "skin in the game" by contributing to the cost of their computer. When even our modest participation fees are too much for them to bare, our scholarship fund enables us to take a portion or all of the financial weight off their shoulders so they can focus on achieving their goals.
Do you know where your company's surplus technology goes?
If you don't know, or the answer doesn't fill you with pride, please email Allen Cornwall, our Technology Reuse and Recycling Advocate at acornwall@itec3.org or call him at 207-615-2956.